The Huddle with Rich and Arnie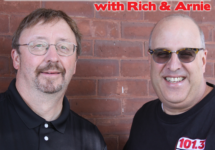 A Thanksgiving themed episode of The Huddle! Arnie and Rich are joined by Fantasy Phenom Ken Crites. Bernie Fratto calls in to make his Week 12 picks along with the guys.
Sports Saturday Podcasts
Jeff and Austin talk about the best sports movies, Daniel Jones and the Giants, MLB hall of fame voting and we give our NFL picks for week 11! Plus we play HOT or NOT, the hottest game
Jeff and Austin talk High School sports, the AFC East, and senior writer for New York Giants Maven and host of the daily LockedOn Giants podcast Patricia Traina joins the show to talk about the future of
Jeff and Aaron talk Yankees off-season, the Patriots road to staying alive in the AFC East, and Jen McCaffrey of The Athletic joins the show to discuss the future for the Red Sox! Plus we play HOT
Austin Danforth and Lauren Read talk High School football with CVU Head Football Coach Rahn Fleming, Essex Boys Soccer Coach Jake Orr joins the show to talk Vermont High School Soccer, and we discuss the spike in
Jeff and Austin discuss the NFC East with Angry Philly Fan AC, how good Derek Jeter's Miami Marlins are, and we dive into the breaking news that Cam Newton has tested positive for COVID-19. Plus, we give
Austin, Lauren Read and Aaron talk Patriots with Boston Globe sports writer Tara Sullivan, Fantasy Football expert Jake Kent joins the show to answer our Fantasy questions, and we make our week 3 picks!