The Huddle with Rich and Arnie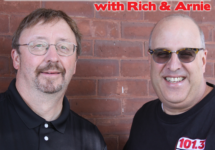 Is there a problem with Major League Baseball? Celitcs head into the break with a win. Bruins/Capitals preview. The voice of UVM Hoops Brian McLaughlin joins the show to look at their semi-final matchup with Hartford.
Sports Saturday Podcasts
We talk UVM Mens basketball with head coach John Becker, Lake Monsters with team Vice President Kyle Bostwick, and Red Sox with Jen McCaffrey of the Athletic! Plus we talk about Deshaun Watson wanting out of Houston,
We're joined by Rice Boy's Basketball head coach Paul Pecor, UVM Women's Basketball head coach Jim Plumer, and UVM Men's Basketball insider Jim Plumer! Plus we talk about the one and done trend, and whether or not
We talk Jets with NY Post Jets insider Brian Costello, UVM Mens basketball insider and former host of the show Bernie Cieplicki joins us to preview the Catamounts' return to action, and BallNine NY sports writer Kevin
We talk Superbowl with Tara Sullivan of the Boston Globe, our Pats insider Tom King joins us to talk about people questioning Bill Belichick, and we go over our favorite Super Bowl moments! Plus we play HOT
We talk New York Baseball with New York News Day's David Lennon, Kansas City Star Sports Journalist Blair Kerkhoff joins the show to talk Chiefs, and we discuss MLB Hall of Fame snubs! Plus we play HOT
We talk UVM Sports, Buffalo Bills, Tampa Bay Buccaneers and more! plus we play HOT or NOT, the hottest new game on the airwaves!