The Huddle with Rich and Arnie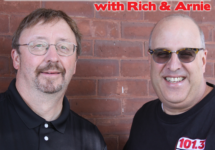 Bruins Caps in OT is Exciting Playoff Hockey, Local 22/44 Weatherman Sean Parker stops by to Challenge Arnie on his Fishing Skills! Hoyer Returns to the PATS???? Has the Train left the Station for The Celtics?  Gone
Sports Saturday Podcasts
Jeff and Bernie talk about winning an Olympic gold medal and the mentality behind sacrifice with Vermont Hockey legend Amanda Pelkey, we break down the newly released NFL schedule, and we play HOT or NOT!
Jeff and Bernie talk Giants with 'Big Blue Banter' podcast host Nick Falato, Jeff explains why he thinks Yankees manager Aaron Boone should be fired, and we debate Hartford's decision to move down to DIII and more!
Jeff and Bernie talk NFL Draft with Patriots writer Tom King, Jeff expresses his frustration towards the Yankees organization, and we break down the news that Aaron Rodgers wants out of Green Bay. Plus, we play HOT
Bernie is off for the day, Jeff talks Patriots and Yankees with Tara Sullivan of the Boston Globe, Jen McCaffrey of the Athletic joins the show to talk Red Sox, and we talk a little Celtics too!
Bernie is out this week, and Jeff talks Yankees, Red Sox, Celtics and more! Plus Patriots writer Tom King talks Pats draft day, Kevin Kernan of BallNine.com talks about the changes in Baseball, and we play HOT
Jeff and Bernie talk changes in baseball, whether or not the Yankees will be good this year, and what the expectations for Daniel Jones should be. Plus Tara Sullivan joins the show to talk Boston sports, and